Congratulations to our Multifunction heater passed the CE certification
In order to expand the export business, and improving the quality of our products on the international market demands, recently, our Multifunctional heater (heating air purifier) products successfully passed CE certification. In recent years, in the European economic area in the sale of products on the market, more and more on the use of the sign of CE certification, labeled with CE certificate of the said goods conform to the safety, health, environmental and quality requirements, and a series of European directive wants to convey, therefore, get the CE certification to enter the international market in the future, and in an impregnable position in the market plays a decisive role.
Deep understanding to the company, the enterprise to the user, the user's demand gradually becomes the core, the safety of users to use more strict requirements, need more high quality and more cost-effective products. For a long time, the company with "the pursuit of scientific management, to create high-quality brand" for the purpose of the enterprise, adhering to the "persisted wins, improve competition strength; quality win customers, credibility to create benefit" the quality policy, is committed to provide users with quality products and services.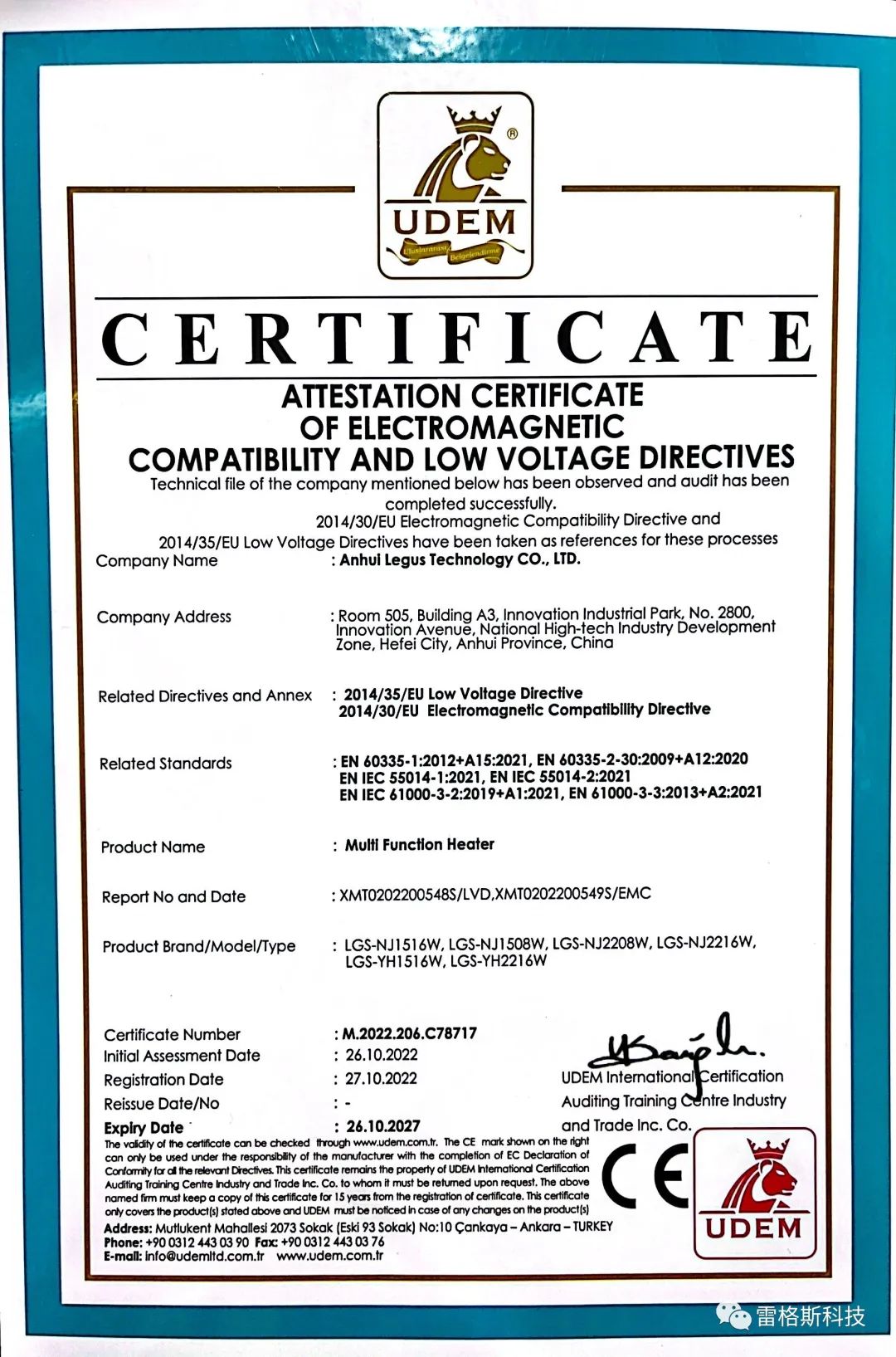 多功能取暖器《欧盟标准符合性证明书》
Certificate of Conformity to EU Standards for Multifunctional Heater
为了扩大出口业务,并根据国际市场需求提高我们产品的质量,近日,我司多功能取暖器产品成功通过CE认证。近年来,在欧州经济区市场上销售的商品中,CE认证标志的使用越来越多,加贴CE认证标志的商品表示其符合安全、卫生、环保和质量等一系列欧洲指令所要表达的要求,因此,获得CE认证对未来进入国际市场,并在市场中立于不败之地起着决定性的作用。
公司深刻认识到,企业要为用户而生,用户的需求逐渐变成了核心,用户的安全使用需求更加严格,需要更加高品质和更加高性价比的产品。长期以来,公司以"追求科学管理,创立优质品牌"为企业宗旨,秉承"坚持以质取胜,提高竞争实力;质量赢得顾客,信誉创造效益"的质量方针,致力于为用户提供优质的产品和服务。